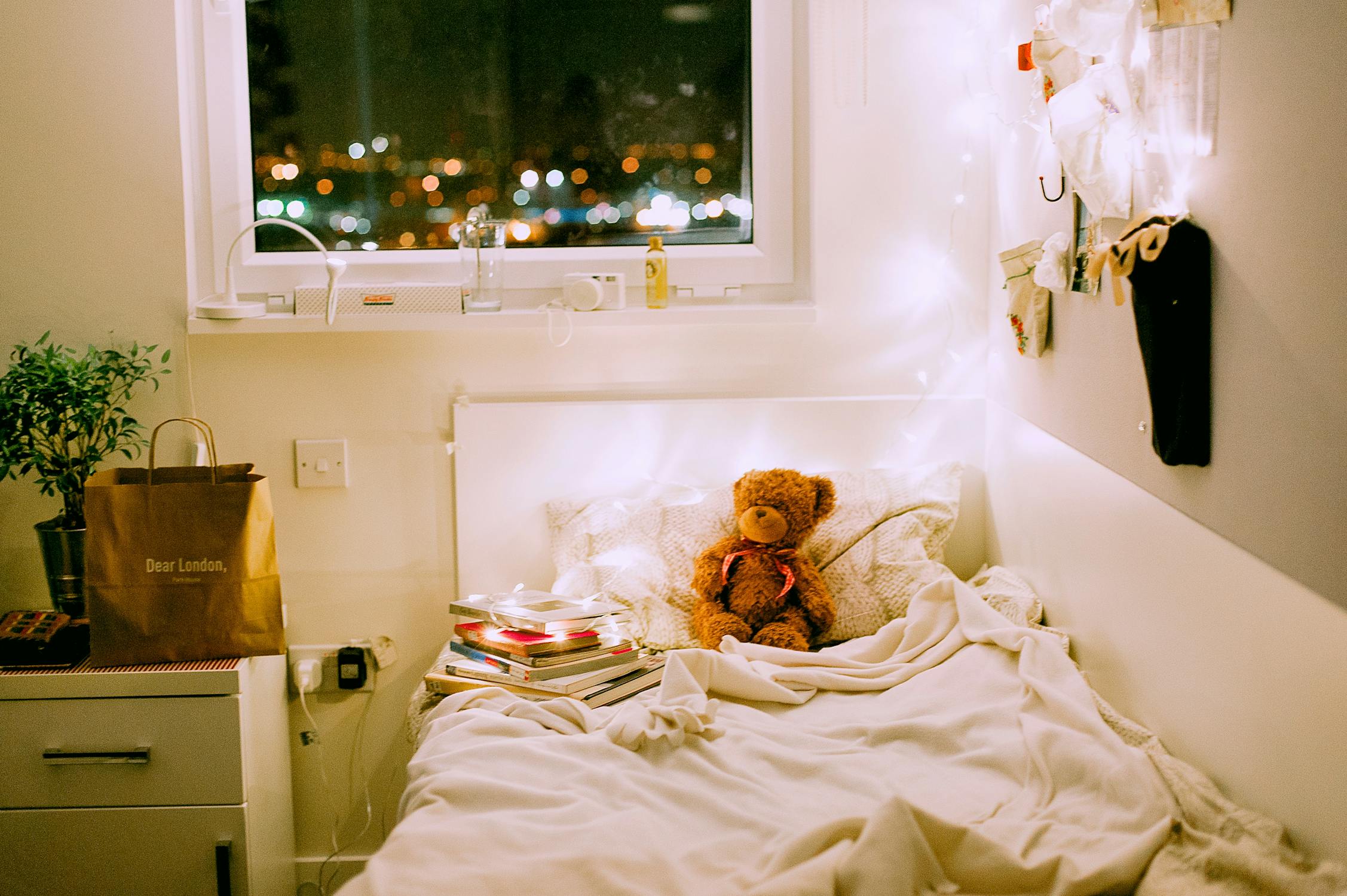 Whether you're in campus student halls, or have signed up for a private let with your mates, the same thing is true:
Student accommodation is DRAB. Magnolia reigns supreme. Carpets are so thin they feel like concrete.
Of course, not all student accommodation is made equal. You might be lucky enough to be living in something quite new, with an en-suite and nice shared living area. Even though this is possible on campus, if you decide to move into a private rental, things will probably go a bit more, shall we say, authentic?
My first year halls were pretty grim. I shared a first floor flat with five other people, none of whom cleaned. It was built in the 1960s and had received precisely zero upgrades in the intervening 40 years. We were lucky in that our rooms were all carpeted (downstairs had lino), but unlucky in that we didn't have a shower. We shared an avocado green bathtub. It was gross. One of the boys tried to hook up the taps to a rudimentary shower head, but it didn't combine the hot and cold water particularly well, so a bath was safer if you wanted your skin to be intact.
My bedroom looked out onto thick woods, so I needed to have my light on all the time. The walls were magnolia, the carpet was green. There was a black desk chair and a brown comfy chair that wasn't particularly comfortable. There were a couple of shelves, a bedside table and a wardrobe.
I spent my second and third years in a private rental that wasn't too bad. It had been a family home beforehand so the décor wasn't too bad, and the carpets were fluffy. There was a problem with mould and the bathroom door didn't shut properly, so it wasn't without its challenges! I now also know how to deal with a blocked sewer pipe, so it came with a whole host of useful life lessons.
Finding your own style
My childhood bedroom was last redecorated when I was about 12 or 13. I made some questionable choices that I now have to live with every time I go and visit my dad (in short, lilac flowery wallpaper). But it doesn't matter so much, because my house is decorated just how I like it and is very special to me. I started to develop my own style properly in my second year at uni. I went along to the poster sale that was held every year, and instead of getting the really tacky, massive posters, I picked up a few small art prints by the Japanese artist Hokusai.
(NOTE! I have been studying/working at the same university for 13 years. Every year, a company turn up for a few days selling posters. Then, about six weeks later, with all the exact same stock, but it's all half price. Every year without fail!)
I loved my (half price) prints, and with a new, more minimalist approach, I managed to create a bedroom that really felt like it was mine, even though it was in a temporary rental. Today, a big print of one of those paintings hands above my fireplace and the whole décor is coordinated around it. So, being at university is a great opportunity to break away from the teenage version of yourself, and find out what a more sophisticated, adult version of you likes. It's a lot of fun, and can be done so cheaply these days. While mementos are really important to all but the most severe of minimalists, you shouldn't completely surround yourself with them, because it will stop you from trying new things.
So, you want to make your room look a little less like you've landed on the set of Orange Is The New Black. But, you don't want to do anything that will risk you losing your hefty deposit. What can you do?
1. Cover those walls
A really quick way to make those bare walls seem a bit more homely is to cover them up with something of your own choosing. However, putting something on the wall risks damaging the paintwork and you getting fined for it a year or so later!
Many renters swear by Command Strips, but make sure that you test one in an inconspicuous area first. These make it possible to hang things on the wall without hammering in a nail. This is good news because even using Blu-Tac to stick up pictures can actually damage the paint. You might also want to stick up things that can't be stuck to Blu-Tac, and putting pictures in a plain cheap frame (hello IKEA Ribba!) can make them look much fancier and keeps them in much better condition. This comes back to finding your own style. Stuff in frames looks grown up, stuff stuck straight to the wall looks like a teenager's bedroom. Fact.
2. Bring some things from home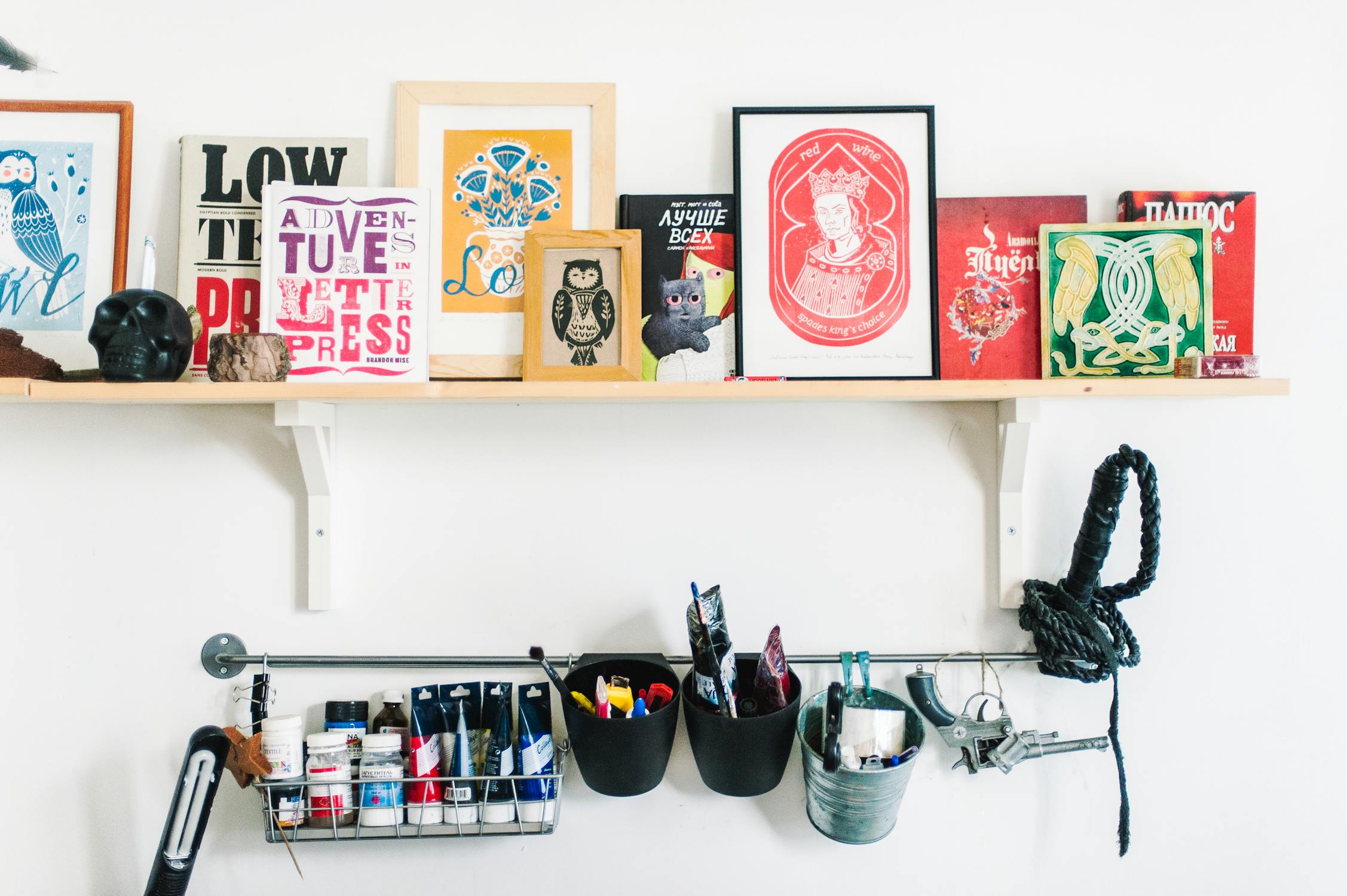 If you're worried about being homesick, then bringing some items from your bedroom at home can help you to feel settled in. Bear in mind that you don't want to be unnecessarily carting everything back every time you visit home, so leave a larger items behind. Print some photos of friends, family, pets and favourite places and put them onto a cheap pin board. Make sure you leave plenty of space for all the new ones you're going to want to add though!
4. Colour and pattern
Bringing pops of colour into your room is the most important thing you can do. Your room is in all likelihood going to be bland beyond belief. I've seen quite a few dorms that have breeze block walls painted in brilliant white. But there is a lot of opportunity to bring colour into your room. When you're initially picking out things like bedding, you might play it safe with neutrals because they 'go with everything'. The truth is, neutrals only go well with similar neutrals, and making them work together without looking like some uncared-for staff room is actually quite tricky. Be bold, and go with colour.
You are free to just go wild and pick things up as you like them, but if you would like to try a more coordinated approach then try one of these rules:
Monochromatic – choose everything in the same colour, but make it interesting by using different tones. This one might sound like the easiest but it's actually the hardest to do in a way that doesn't look boring!
Analogous – if you look at a 12-spoke colour wheel and pick three colours next to each other, you will have yourself an analogous colour scheme!
Complimentary – these are colours that appear opposite each other on the colour wheel. It's a good idea to aim for using 80% of one colour then 20% of the other as an accent.
Triadic – this is where you take three colours from the colour wheel that are evenly spaced apart. A tricky one to get right!
3. Bedding
Pick a couple of sets of nice cheerful patterned bedding. There's a good chance that your bed will end up getting used as a sofa by your mates, so something that will be forgiving to minor stains will keep it looking better for longer. Make sure you wash it before you go! New bedding, especially if it's from a budget range is really scratchy, so get plenty of fabric conditioner in the washing machine to make it soft and cosy. Make sure you buy a decent pillow that suits your sleeping position. Also get a mattress protector, and if the mattress that is there when you move in is totally ruined, think about buying a cheap replacement. You can't put a price on a good night's sleep!
I had a double bed in my second and third years, and decided when I went out bedding shopping that I was going to invest some really nice bed linen that was going to last me. I still have the bedding I bought on the go many years later, albeit as the set for my spare bedroom. But it's good quality and is standing the test of time, so was obviously a sound investment! I actually broke the rule above and bought white bedding, but I also had a huge colourful throw that made the whole setup look really grown up. Said throw is still on the go in my living room and gets used pretty much every day of my life!
6. Cushions
One of my housemates brought around two dozen bright (mainly shocking pink) cushions with her when she moved in. They were tacky as hell, but it turned out to be a genius move. We didn't have anywhere comfortable to sit in the whole flat, so every day, her bed turned into the household sofa. We'd all huddle round her small (pink) TV and watch Friends every day. This was back in 2006 when Netflix and BBC iPlayer were a long way off and a double bill of Friends was still a daily TV staple. Things have moved on a very long way since then!
The point is, pick up a few cushions in a style you like, and colours that complement the other things you have bought, and it will make your room look and feel a lot more comfortable. There is a huge range of cheap cushions out there to suit every taste, and you don't have to worry about what anyone except you likes! Cheap cushions tend to have pretty limp fillers, but if you have a cover that you really like, you can always replace it with a better one later.
4. Lighting
My first student bedroom had a big strip light on the ceiling (nice) and a lamp on the desk. I bought an extra lamp for the bedside table (in cream which was a mistake – shoulda picked a colour) and that was all I needed. My housemate with all the cushions also had a string of fairly lights that totally transformed the room and made it feel like a violently pink cocoon, so I would definitely recommend getting some of those if you like the style of them. Another option is LED strip lights that you could put under shelves to give out ambient light. There are a lot of faux neon lights around too that you could hang on a command strip.
5. Rugs
You won't get any choice over your room flooring, but you can certainly get a cheap rug to cover it if it's bloody awful. You could get a small one that just covers the available space, or if you're feeling particularly flash you could try and cover as much of the room as you can like a carpet. Make sure you can still open and close the door though! Choose carefully and you could end up with something that you take with you to every place you live in, and it instantly makes anywhere feel like it's yours.
6. Themes
If you go into any homeware shop you'll find items relating to fashionable themes. Tropical décor is really popular at the moment, whether it comes in the form of a gold pineapple ornament, flamingo cushion covers or crockery with palm leaves painted on to them. Picking a theme and running it is an easy way to get a coherent look, and you should be able to find cheap items at shops like Wilko and The Range. However – trends disappear as quickly as they arrive. Be careful about investing too much money in something that will seem like a cliché in a few years' time.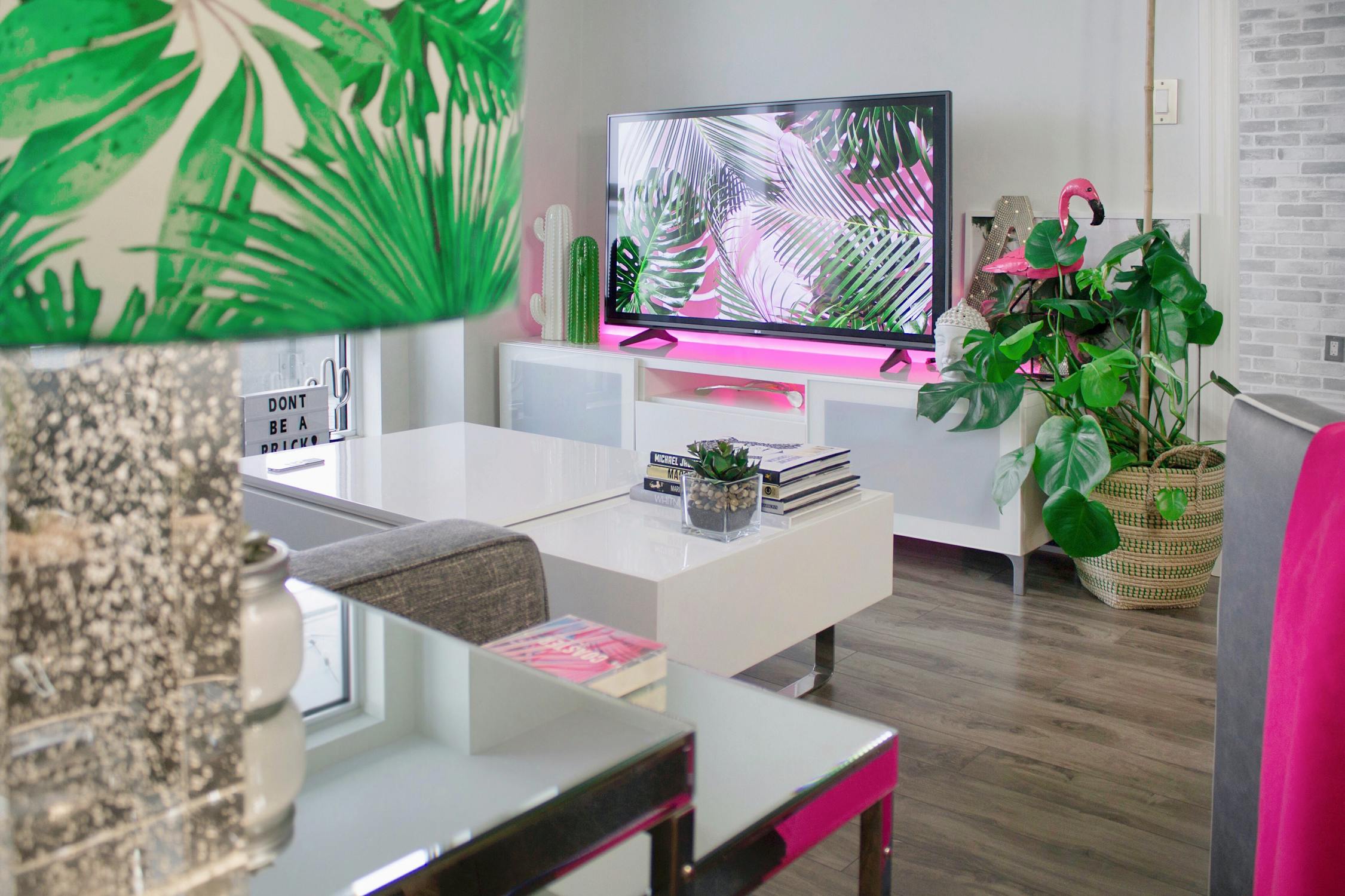 Which of these tips are you excited to give a go? Or have you already tried some of them? Let me know in the comments!
---